Everybody loves living in a neat and clean home, but many people hate all of the work that is involved in keeping their houses clean. But don't worry, the following are some of the most effective cleaning hacks that you can rely on to clean your house in a much more efficient and effective way.
1. Make a Cleaning Plan
As the saying goes, when you fail to plan you are planning to fail. It is important to have a plan on when and how you are going to cleaning different parts of your home.
2. Clean The Toilet Every Day
When you use a brush to clean your toilet every day, it will stay sparkling clean without having to put in lots of hard work.
3. Avoid the Bucket
If you have ever attempted to clean your floor using a mop and bucket, then most likely you have found how frustrating it can be to move them around while you are cleaning. For example, the mop might end up splashing dirty water onto your floor or anything else nearby and make other areas dirty as well. In order to avoid these problems, you can just use a spray bottle containing a diluted solution of soap and water along with a microfiber mop.
4. Use Doormats
Probably the most obvious way to keep your home clean is to prevent dirt from coming inside, to begin with. One of the best ways to do that is to have a doormat for catching the dirt and dust on people's feet as they come into the house.
5. Invest in Good Cleaning Products
To do a good cleaning job, it is important to have the right cleaning product to use on each of the different parts of your house. For example, don't wipe down your mirrors using a bathroom tile cleaner, or visit Up Maids House Cleaning.
6. Vacuum Correctly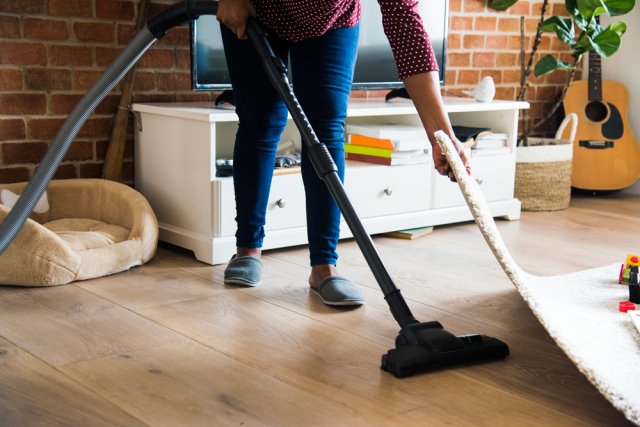 You should vacuum side to side and then go forward and backward. Also, vacuum slowly so your vacuum has the chance to pick up more dirt.
7. Use Pillowcases
One of the most effective ways of cleaning ceiling fans is to use a pillowcase. It will hold the dust easily to ensure that it doesn't fall on the table or bed.
8. Don't Use Too Much Polish
It isn't necessary to polish your wood furniture every week for it to continue to shine. Just polish it one time a year and then frequently wipe it down using microfiber cloths to maintain its shine.
9. Use a Paintbrush
It is easy to get rid of dirt around your furniture's nooks and crannies using a paintbrush without having to move the furniture. After the dirt has been removed you can suck it up using your vacuum cleaner.
10. Prioritize
In order to efficiently clean your house, you need to prioritize. Focus first on the areas and rooms that need the most care and attention.
11. Use a Dish Soap Brush
To clean your bathroom effectively you can use dish soap Therefore, it is a good idea to have a dish soap brush in your bathroom so that you can clean your bathroom easily on a regular basis.
12. Combine Chores
Combining some tasks can help you clean your home more quickly. For example, as you are cleaning the windows you can clean the blinds also, or as you are vacuuming the floor, you can clean the baseboards
Although it can seem like an overwhelming task to clean your house, there are some great tips that you can rely on to make this a seamless process. If you don't have time to clean, then you can hire a professional cleaning services, or visit https://www.facebook.com/upmaidscleaningservices.